The SkyCaddie PGA Pro-Captain Challenge
---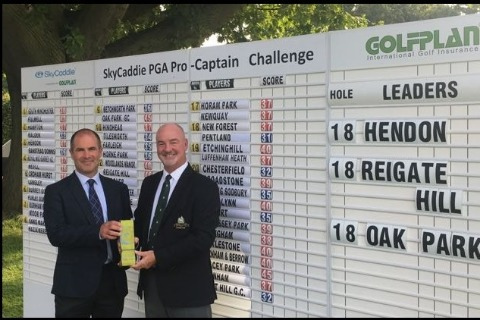 The SkyCaddie PGA Pro-Captain Challenge South B Regional qualifying Tournament held at Royal Mid-Surrey Golf Club attracted a field of 52 teams. It is fair to say that our Captain has not had much success when playing with Matt Deal at Club level, they have lost more matches than they have won. However they were obviously saving themselves for the big event. Lawrie played some miraculous shots, just missing a hole in one on a shot hole for a net eagle, but the shot of the day was from the downslope of a steep hillock, 160 yards from the pin, he bounced the greenside bunker and came to rest about 2 feet from the hole for another net eagle. Matt deal played with an injured finger and was having to be very careful how he gripped the club, playing the course for the first time he played it as he saw it and made 6 birdies. This lead to their combined betterball score of 47 points. For the full score breakdown and leaderboard please click on the link.
Full leaderboard
They now go forward as the regional winners to the Grand Final at Arabella Golf Mallorca - Golf Son Muntaner on the 6/7 November all expenses paid.
Good luck in the Final !!!